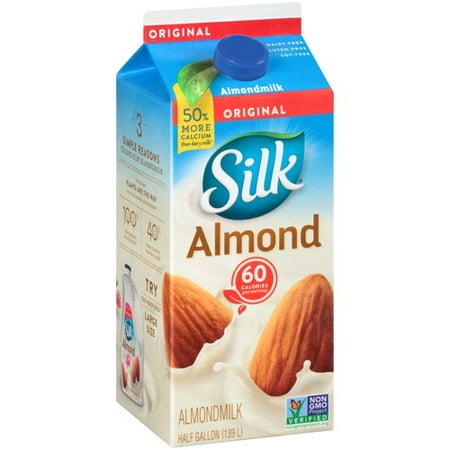 Coach Josh is answering some questions and invites you to submit yours—
READER'S QUESTION<<<
Hi, Coach Josh! A lot of my friends have switched from drinking low-fat or skim milk to drinking almond milk. I thought that milk was good for me. Why should I switch to almond milk? — Barbara, Victoria, Australia
JOSH'S ANSWER<<<
I don't know about you, but as a teenager I grew up drinking about a half-gallon of cow's milk every day in Iowa.  I can even remember my mom yelling at me for drinking out of the plastic carton, "Josh that is disgusting, get a glass!"
Ahh, teenage boys, they'll eat you out of house and home.
Back to the question at hand, let's take a little deeper look into this popular "milk switch" to see if it has some merit for reducing body fat levels and improving health.
Cup for cup, unsweetened almond milk is a superior choice over skim milk, especially over milk that you can purchase in a grocery store. An 8-ounce serving of almond milk contains about 50 less calories than an 8-ounce serving of skim milk.
That same serving of skim milk packs 12 grams of sugar—most of which is lactose, a sugar that creates digestive issues for many people. A cup of almond milk, on the other hand, is sugar-free and even boasts 1 gram of fiber. (I often add a little natural sweetener to my milk by the way.)
Milk enthusiasts would argue that they prefer milk because of its high calcium content. Well, a serving of almond milk actually contains over 60% MORE calcium than skim milk! You'll get 450mg of bone-building calcium from almond milk, whereas you'll only be getting 275mg from a comparable serving of skim milk.
Also, almond milk is loaded with Vitamin D – 25% of your daily requirements for the "sunshine vitamin" – and the powerful antioxidants of Vitamin E (50% of your daily needs in one cup). Compare that to virtually none of the above from a cup of skim milk.
While almond milk does contain 3 grams of fat, about 2/3 of that is the heart-healthy monounsaturated variety.
And we haven't even touched on the subject of commercially-raised cows, which are fed inferior foods (i.e., genetically-modified corn) and pumped with potentially dangerous growth hormones and antibiotics, all of which could be passed on to you. (Yuck!)
Sounds to me like making the "switch" from skim milk to almond milk can help burn the belly bulge and improve your health.
Have a question for me? Post it on my blog and I'll do my best to get to it in a future newsletter. 

Coach Josh
TO YOUR GOOD HEALTH!
Advertising

Please note that any advertisements that you see on this blog are placed here by WordPress.com. The Administrators of this blog have no connection to or financial interest in any of the promoted products and/or services and gain no income from any advertising displayed on this blog. F