Isabel has sent us this exciting email and we know that her information is right on- Coach Josh sent us this information awhile back- we checked it out and shared it with you at that time but believe it is worth sharing again since some no doubt missed it the first time.  Isabel says…
Yes, I eat bread and you can too!
People are often surprised when I tell them about a family favorite breakfast sandwich of 1 egg and 1 slice of bacon on 2 pieces of bread.
What most people are picturing is something you'd get from a fast food drive thru window (which is just not an option for me), but the reality is that I put this simple and healthy breakfast together right inside my own kitchen.
Two slices of bread???  Yep, that's what I said.
On a flat belly eating plan like Beyond Diet, there's no reason to give up bread.
See the go-to bread recipes I use for a flat belly
And you have options…
Ezekiel bread and Manna bread are both sprouted grains, which are much healthier and easier for your body to digest (and that means no belly bloat), but what if you're sensitive to gluten like me?
Well just because my body doesn't agree with gluten, and I know I'm not alone here, why should I have to give up yummy sandwiches, toast, and other baked goods that everyone else gets to enjoy?
I don't! And neither do you…
Instead of buying bread at the super market, that I know is going to make me feel terrible, I choose to make my own breads at home.
Now, before you delete this email at the very thought of baking bread, hear me out…
It's actually quite simple, even for the most beginner of chefs. All you need are easy-to-follow recipes and it's just like cooking anything else.
That's why I'm giving you one of my favorite bread recipes today.
This was given to me by my good friend and the author of Better Breads, Kelley Herring.
Paleo Pullman Bread
Makes One 7.5 X 3.5 loaf (12 slices)
Dry Ingredients:
¾ cup almond flour (80 g)
1½ Tbsp. coconut flour (20 g)
1 tsp. baking soda
¼ tsp. sea salt
3 tsp. organic psyllium husk powder (9 g) – great for your intestinal health!
Wet Ingredients:
¼ cup hot water
3 pastured eggs + 1 egg white
1 Tbsp. organic apple cider vinegar
Directions:
Preheat oven to 35O F.
Grease or line the bottom of a Magic Line Loaf pan (7.5" X 3.5") with parchment. Using the correct pan size is very important for achieving proper height.
In a small bowl, combine the dry ingredients.
Combine the eggs and apple cider vinegar, whisking well. Stir in the dry ingredients to combine. Pour in hot water and stir vigorously to distribute. Batter will be thick and sticky, like oatmeal.
Spread into prepared pan. Transfer to oven and bake 35 minutes or a toothpick comes out clean.
Let cool on a wire rack. When completely cool, store in an airtight container.
Mmmm…I can almost smell it as I'm writing you!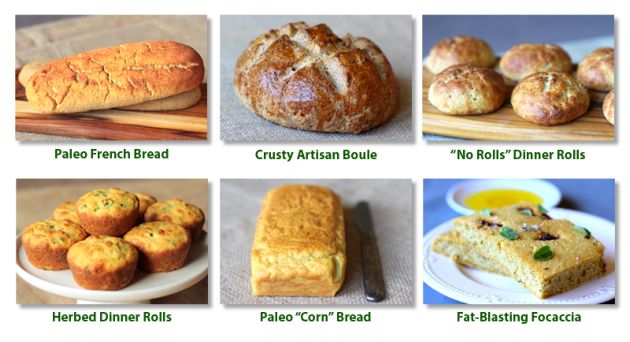 The best thing about this, and the other recipes in Kelly's book, Better Breads, is that instead of bread being bad for you, the ingredients she uses actually work to improve your digestion and intestinal health.
So while psyllium husk powder may sound odd if you haven't used it before, it's exactly what you need to support your flat belly and full-body fat loss WHILE eating bread!
If you love bread, but you don't want a bloated belly, or you just can't digest gluten (like me), then I highly recommend Kelly's Better Breads recipes.
Click the link below and see how you can enjoy all the "bad" foods of the past, without gaining weight, feeling uncomfortable, or having regret.
(Pizza, chips, bagels, pretzels, and breadsticks INCLUDED!)
Get the Better Breads book- 25 FLAT BELLY baked goods for under $15 
In health and happiness,

TO YOUR GOOD HEALTH- EAT HEALTHY AND DELICIOUS!
Advertising

Please note that any advertisements that you see on this blog are placed here by WordPress.com. The Administrators of this blog have no connection to or financial interest in any of the promoted products and/or services and gain no income from any advertising displayed on this blog.